This is a brand new website. We appreciate everyone's patience while we load images of products. Thank you so much!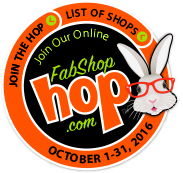 The October FabShop Hop has launched. For the month of October, the Bunny is checking out the harvest of

new wool

available at the Shoppe for her seasonal projects.

Upcoming Autumn Events at the Shoppe!
* Wooly Block Adventure October 15 through December 15, 2016
(a new experience from the creators of the Row by Row Experience). Pictured above is our block for the event. You must visit the Shoppe in-person to pick up a pattern or purchase our block kit.

Join us for some hand-sewing during our Apple Core English Paper Piecing class on Saturday, October 29 10:30am-1pm. For more information and to register

click here

or call 503-607-0600.